Home > Journals > 2004 – 2005: Vendée Globe
Ocean Planet Vendée Globe Update:
Tuesday/Wednesday, Octocber 26 & 27, 2004
It's late at night here in Les Sables d'Olonne, which at the moment is the Mecca of solo ocean racing.
It is impossible to describe how BIG of an event the Vendee Globe is. They have to limit the amount of people on the docks, and last Sunday the "waiting" line was amazing. The official tally (there are folks with little clickers in their hands at the top of the docks that keep track of how many go on and off) was over 20,000 for the day, and that was with two weeks to go.
I can hardly work on the deck of the boat, for as soon as the crowd on the dock realizes that "one of the skippers" is there, you are stuck signing autographs! What happens is that someone with one of the many "official" printed programs spots you and then they get excited. A crowd starts to grow which attracts the attention of more… pretty soon there's 200 people or more clustered around. Of course I'm not complaining, as it is great to have so much attention! Also, the enthusiasm and excitement of the many kids that come to see the boats is totally infectious: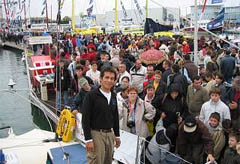 We are working hard (frantically?) to get ready, and I have to give a huge thanks to the volunteers helping me: Serge & Aline on Logistics and European PR, our systems/electrian pro Dave (Dodson, of Portland, Maine), and some American(!) residents of Les Sables: Corey, Heather, and Glenn. Another EXTRA huge thanks to our fabricator Will Rooks (Falmouth Boat Works, Maine), and our Operations Manager Mario Espin (also Manager of the West Marine store in Key West, Florida). Will and Mario had to leave today to go back to the U.S. Will has certainly earned some "hometime" after five months straight out with us. Mario will be back on the first of November, which is good!
Showing up this weekend are Ocean Planet Team stalwarts Stephen Hodges, Jason Winkel, Greg Nelson, Andrew Roberts, and my girl Jeanie. Jeanie and I have seen each other a total of six days this year, since I have been so flat out working towards the Vendee. Crazy, I know.
There is a little bit of stress waiting for shipments to arrive in time. Some very valuable rope sent by our rope supplier sponsor Samson Ropes accidentally wound up in Germany, and we didn't find out where it was until today (NOT Samson's fault, I'm sure). Our sails were ordered at the last possible second (we didn't have the $ to order them sooner), but thankfully Doyle Sails and Maine Sailing Partners have both been really hustling to get them here.
So, we still won't be able to go test sailing until the final week! Yes, I'm nervous, but you should see the boat with the new boom, she looks GREAT.
….Ok, now it's 7 a.m. here and I just got off the phone with our Team rigger Jason Winkel (Argo Rigging). It's 10 p.m., Tuesday in Sausalito, and with the nine hour time difference, a good time to communicate. He and the gang are all set for this weekend, and our new video cameras have arrived for them to fly over with. I hope to get some good footage during the race, of course.
Am I rambling on here? I'd better get another short nap before heading down to the boat this morning. Talk to you later!
Oh wait, another bit of news! Yours truly will be giving a live "concert" on the music stage in the Vendee Village on Friday, at 7:30 or 8 p.m. local time. It is getting a bit of press on the radio and in the papers (I did an interview and played on Radio France Bleu on Monday), so there should be a good crowd. Let's hope I play halfway decently….;-)
Ok, too late for a nap, gotta run!
Bruce Schwab, Skipper
USA 05/Ocean Planet