Home > Journals > 2004 – 2005: Vendée Globe
Ocean Planet Vendée Globe Update:
Saturday January 8, 2005
Position 50 35S, 149 19E/W, @ 16:10 UT
Work day.
Just yesterday we were surfing along downwind in moderate breeze, but that already seems like ages ago. Some of you may wonder why I turned north (again), but I preferred to repair the clew for the first reef in somewhat stable conditions since I really don't like sticking the sewing needles into my hands by accident. Also, I decided to finally deal with the bit of looseness in the keel wedges and see if I could reduce the creaking when pounding in the waves.
Weather wise, we are entering a transition period between systems, and starting tomorrow it is going to blow out of the north for at least a couple of days. Not from the northwest as is normal with approaching depressions here, since the next low is coming in from the north of us instead of the south. So being more to the north when the wind fills will give me more options once it does. We can either hang at our latitude or be able to bear away to the south a bit for more speed if we need to.
With all this in mind we spent the day in light air easing north while working on the boat. Distance to finish-wise, it probably looks like we almost stopped, and we certainly gave Conrad (and Benoit) some miles. But I wouldn't trade our position with Benoit for a boatload of chocolate, as he is so far south he has limited course options and is seeing a lot of ice!
Back to the boat projects…. After playing human sewing machine for a while, the first reef clew is finished. This time I added a nice Equiplite block from my spares kit: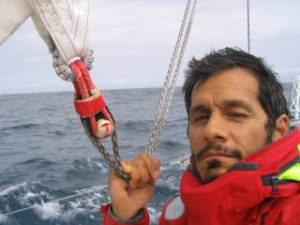 Next was the keel wedge. The screws that hold the keel wedge "strut" down were tightened all the way, giving no more adjustment, so the wedge needed to be thickened somehow.
First I had to remove the keel trunk lid to get at the wedge strut screws, then yank out the wedge strut itself. It took a little bit of yanking to get it out, but there was no doubt it was not as tight as it should be. The options for thickening it were epoxy resin, which would take at least a day to cure, or some kind of tape. I opted for some kevlar sail repair tape that seemed at least moderately 'hard' and fairly slippery which would help in getting the wedge back in. As it was it took a bit of persuading (hammering) to get it down far enough for the screws to reach! So now it is nearly all the way down again and quite tight (I think). The tape might squish a bit but will also absorb some water so hopefully that will balance each other out and stay tight. Here's a few pics: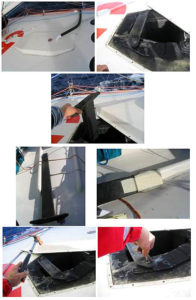 When tightening it down, I sailed the boat upwind for a few minutes (totally in the wrong direction!) trying to get the boat to pound a little and wiggle the keel. Here we have been pounding away for most of this race, upwind, downwind, wherever, but now the seas were too smooth and I couldn't get a single flop. Oh well, hopefully the creaking will stop (we'll find out soon!) and even if it hasn't I know that the keel should be tight fore and aft at the least.
All these shenanigans took much of the day. At the moment we are crawling in light air to the northeast, waiting for the wind to build. I have shifted all the gear to port in anticipation of several days of hard reaching, and am now pretty beat. I had a short nap then got up to pound out this update….and I hear the bunk beckoning once more. Thankfully I can reach the autopilot buttons from the bunk since it requires frequent button pressing to keep the boat going! Tomorrow the pace will be back and we will take it from there.
Bye for now,
Bruce Schwab, Skipper
USA 05/Ocean Planet