Home > Journals > 2004 – 2005: Vendée Globe
Ocean Planet Vendée Globe Update:
Monday, January 10, 2005
Position 51 11S, 129 49W, @ 21:24 UT
The Grind
What a grind the past few days have been. After giving away a bunch of miles to effect repairs, including working on our squeaky keel, we were pretty much stuck in a northerly position with a storm approaching. I wasn't too worried about it since I hoped that the backing wind shift, after the storm front, would reach us before then and the boats to the south and we could apply the gas sooner.
Well, you know what they say about the best laid plans… it didn't work out that way. The low pressure system moved in such a way that the lifting wind was DAYS in coming. So that bear away enough to get decent speed was too much a dive to the south. But most of all, the sea state from the storm combined with some big swells from the south made the ride a slam-fest. My keel wedge work seemed to have helped, but only for a while as the incessant banging away has brought back the creaking noise when we fall off waves.
This keel noise has been something that has been with the boat almost since she was first launched, and I have been on a crusade to fix it for years. Whenever we have hauled out and looked at it, there doesn't appear to be any structural problem. But the loud squeaking and grunting sound when landing is still there in spite of all my modifications over the years. Chances are it doesn't matter, but noise drives me crazy and I feel really guilty about pushing the poor boat when she complains so loudly.
So in the storm, every time I tried to apply the sail pressure to drive through the maelstrom, it was only a short time later before I pulled back. The signals were clear; once after adding sail and thinking "to hell with the noise!" So there I was, up in the sail locker using the head… trying to brace myself in the violent motion which was hard enough. But as we fell off a steep wave and landed harshly, our large fortress anchor which is mounted on the bulkhead above the head suddenly pulled out of its mounting screws and fell directly on me.
Not a fun cross to bear…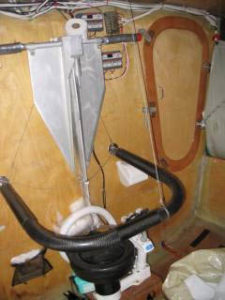 I had it remounted after an hour or so of angry activity, but the boat had made its point to me. There are times to "go" and there are times to go slow.
At the moment (2117 UT), the sea state has eased, the wind has backed (lifted us, on port jibe), and we are off at 12-14kts without a hitch. It is amazing how effortless it is to go fast on this boat when the seas are agreeable. Whether or not we can gain back the miles lost to Conrad on Hellomoto remains to be seen. He is easing to the south again, as apparently he has an affinity for icebergs or at least they don't seem to bother him. I will keep tabs on him from a more northerly seat.
Here is the view from the "vestibule":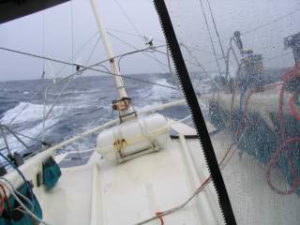 Looks like 8-10 days to Cape Horn from here, depending on the weather, of course. So far, yet so much closer than a month ago!
I feel somewhat blurry after that storm…
Bruce Schwab, Skipper
USA 05/Ocean Planet