Home > Journals > 2004 – 2005: Vendée Globe
Position 32 41S, 38 16W, @ 10:00 UT
Beautiful Morning!!
Not a bad start to today. Sunny, with a pleasant breeze and a few nice patchy clouds. We avoided getting stuck in the approaching high and kept moving through the night. There have been a few rather light spots where the wind started to die, but thankfully it has been coming back right away.
I made a nice breakfast of hash browns with a bit of chorizo added. Not bad at all! Then I did my inspection of the boat looking for things that need attention. Nothing really, so I feel ready for the strong easterlies coming this weekend. But I will have to stay on my toes and be ready for anything.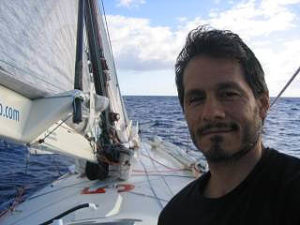 All of our sails have been holding up great on this race. I hope I don't jinx myself by saying that! We had three new sails from Doyle Sails at the start: staysail, working jib, and fractional spinnaker. As usual, we ordered them at the last second (when we got Serge's loan), but Doyle built them in record time. Here you can see our carbon/vectran working jib, after 3/4 of the way around the world(!) This sail has been a real workhorse and still looks like new: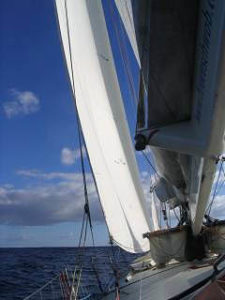 We also had a new mainsail for the race which was a special effort by Cuben Fiber and Maine Sailing Partners. The Cuben Fiber material is amazingly tough and durable, and I believe the main will be able to go around the world again!
The wind will slowly be increasing today and tomorrow. Then Sunday it will build to 25/30kts from the east. It will be a tight reach which will be rough, but at least we won't be beating upwind in it….;-)
That's it for today. Thanks for all the great emails to Ocean Planet from all over the world!
Bruce Schwab, Skipper
USA 05/Ocean Planet