Home > Journals > 2004 – 2005: Vendée Globe
Position 22 56S, 32 48W, @ 13:07 UT
Stuff That Works
As I look at Ocean Planet's track around the world, I see that we are not that far west from our course down the Atlantic over two months ago. This is a psychological milestone for me as I realize that we have in fact already sailed around the world nonstop. The challenge is now to make it to the finish of the race.
This is going to take some time given the conditions that we have been handed lately. Right now we are "squall wrestling," going from windless patches to torrential rain and wind. At least it is very warm, and running out in the rain is quite refreshing at times.
Having made it this far (and because many of you have been asking), it is a good time to assess some of our equipment and how various things have been holding up. Let us hope that I do not jinx myself! I'll "knock on wood" since I have plenty of it around me on Ocean Planet…;-)
So, in no particular order:
Solar panels: I have heard that some other boats have had problems. Thankfully, our solar modules are made by Solara Energy and have been working perfectly. I love solar power! We have a 24V battery system, so the 12V panels are wired in pairs, or "in series" so that each pair will charge at 24V or higher. Here are two pairs of Solara panels merrily charging away:
Charging system: Even with the solar panels, we do a fair bit of charging with our diesel auxiliary engine. Our charging system, including a 120ah (x 24V!) alternator, gel batteries, and other gadgets, were designed by Liem Dao of LTD Marine in California and is very well put together by our builder Schooner Creek Boat Works. Liem is something of a legend in my home area and no wonder! These are in fact still the same batteries that went around the world in the Around Alone race.
New boom: Long time Ocean Planet followers know how hard I am on booms… having broken ours twice in the Around Alone. Our new boom, with a design concept by yours truly, engineering by Ted Van Dusen at Composite Engineering, and built almost single-handedly by Maine's Will Rooks of Falmouth Boatworks, has endured my abuse well. It looks cool too: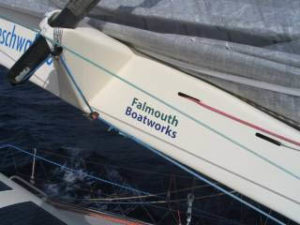 Ropes and halyards: Amazingly, in two around the world races I (so far) have not broken ANY halyards or sheets. Pretty impressive, eh? As a result, I have not had to climb the mast to replace any halyards, which is a very good thing. All of our ropes, including the halyards, sheets, runners, etc. are made by Samson Rope Technologies and have been great.
Connectors and misc blocks: You probably already know how crazy I am about our Equiplite connectors and other hardware. I love lightweight things that take a lot of load! In this pic of our floating jib lead system (with the lead blocks on "deck loops"), you can see a lot of Equiplite and Samson at work together:
Communications: Our very simple system of an Iridium phone and this laptop PC has done it all, from sending these emails and pictures to you, to interviews with the press, even to calling my mom and dad to let them know I'm okay. Iridium ROCKS!!
Honorable mentions: Our winches, by Antal, have been great. In the AA, we had the original aluminum internal stands in them, which we beat up pretty good. But these were upgraded by Euromarine Trading while we were in Maine, and they have been flawless since. We also have a number of Antal blocks in use on the mainsheet and runners.
Hull and deck coatings: During our refit in Maine, we completely repainted the boat and used International Paint Co's Interthane Plus and other great products. I have used International Paint for years, ever since my days as a painter at Svendsen's Marine, long ago! Now, after all the way around the world the boat looks brand new.
Watermaker: Our "water machine" is a Spectra watermaker and has been very efficient and productive. I am rather wasteful with our fresh water because I wind up with so much of it!
That's enough for today, as we are getting headed where I have feared today and may have to tack soon…
Bruce Schwab, Skipper
USA 05/Ocean Planet