Home > Journals > 2004 – 2005: Vendée Globe
Ocean Planet Vendée Globe Update:
Friday, January 14, 2005
Position 50 53S, 112 30W, @ 09:30 UT
One More Big One?
With only a few more days to go before rounding Cape Horn, it looks as if we will get one more good pasting as a parting gift from the Southern Pacific.
The approaching storm is packing some wind, and I have tried to work north of the projected area of the worst of it. Conrad on Hellomoto has chosen the southern side of the "squash zone" of big wind, but in the most recent weather file I have it looks like we both are gonna to get it either way. However, right now the wind I have is nearly 10kts stronger than the grib file suggests and it might be that I have chosen the short straw. We shall see.
My sealing on the bow leak is holding fine, very little more has dribbled in there. Not a great shot, but here you can see my first application of sealant on the cracks: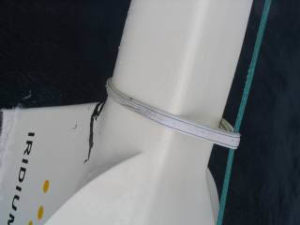 Here is the (now dry) bow compartment that we had brief swim in before bailing it out: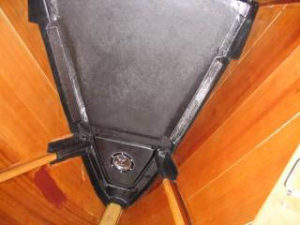 It is nice to keep the water on the OUTSIDE of the boat.
A special mention and thanks today to Iridium Satellite LLC for making our communications and the sending of these images possible! It is amazing that with an Iridium phone and a computer you can make a phone call or email this data from virtually anywhere in the world.
Ocean Planet and I have been getting great emails from all over the world wishing us well. From France to Germany, England, the Netherlands, Canada, New Zealand, Afghanistan(!), the Falkland Islands, and of course from all over the good ol US of A. We have been getting notes from students following the race as well as adventurers of all ages. Thanks to everyone for the good vibes. When it's time to go put in the third reef, it is good to have all this support behind us!
It looks like that time is right about now as water is crashing over the deck as we noisily surf along. So I need to run. More news tomorrow, hopefully good!
Bruce Schwab, Skipper
USA 05/Ocean Planet