Home > Journals > 2004 – 2005: Vendée Globe
Ocean Planet/USA 05 Update:
Wednesday, September 15, 2004
Thanks Team.
After more than a year of hard work at Portland Yacht Services, Ocean Planet, myself, and a devoted crew are leaving for France this Saturday. There is so much going on that all of our heads are spinning. But we certainly do have some good heads on this team; in fact I must bow in humble regard to the great supporters Ocean Planet has had during this big rush. Our gang here in Portland and shore team for the final month in Les Sables has really come together, and we are raring to go.
Btw, last Wednesday none other than Maine Governor John Baldacci hosted a reception on our behalf at the Blaine House in Augusta (the Capitol)! He is very enthusiastic about Ocean Planet and our education partnership with Bigelow Labs, and invited a nice crowd. Dodge Morgan himself was also there and gave a really inspirational speech that boosted my hope and confidence. If you don't know who Dodge Morgan is, well….so far he is the only American to have sailed solo, nonstop, around the world. In 1986, several years before the first Vendee Globe race was held, he completed his circumnavigation aboard his boat "American Promise" in 150 days. I hope to go a lot faster… I'm not sure I'm that patient!! Dodge is a heck of a character and a really great guy, so I'm proud to follow in his footsteps. Below is a shot of the 'Gov', Dodge, and me at the Ocean Planet relaunching back on July 14th:
And here is the Portland/East Coast wing of Team Ocean Planet at the Blaine House!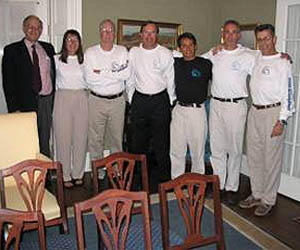 Hopefully we will see some more financial help after this great show of support. We sure need it.
More soon, but back to work for now!
Bruce Schwab, Skipper
USA 05/Ocean Planet