Home > Journals > 2004 – 2005: Vendée Globe
Ocean Planet/USA 05 Update:
Tuesday, July 27, 2004
Welcome Aboard, Capt'n Eli!
Youth Adventure Cruise on Thursday!
Fundraising Party on Friday!
Ocean Planet welcomes Capt'n Eli's Root beer!
Shipyard Brewery and Capt'n Eli's Root Beer have been great supporters all winter and spring, and have been the driving force behind this Thursday's Youth Adventure Cruise. Check out the Undersea Adventures of Capt'n Eli at http://www.captneli.com/. Try some great natural root beer and sign up for the email adventures of young Capt'n Eli, which are really fun!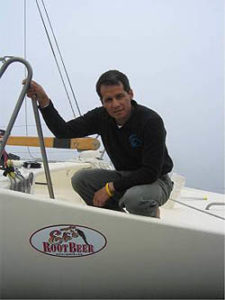 And don't forget . . .
Special Fund-raising Dinner at The Osprey Restaurant!
(thanks to "Revolution" skipper, Ed Rodgers!)
You are invited to join Bruce Schwab, GMORA (Gulf of Maine Ocean Racing Association) racers, and other Mainers in support of Ocean Planet and Bruce's entry into the 2004-05 Vendee Globe Challenge.
Come to Robinhood Marine Center and the Osprey Restaurant July 30th for a lobster bake and cocktails. All proceeds to support the Made in America Foundation.
Evening Schedule:
5 – 7:00 p.m. – take a tour of Ocean Planet and see first hand what a cutting edge Open 60 racing sailboat is all about!
6 – 7:00 p.m. – cocktails in picturesque Riggs Cove and Robinhood Marine Center with Bruce and other guest skippers.
7 – 8:00 p.m. – down east lobster bake with all the fixin's!
8 – 9:00 p.m. – a detailed and thoroughly engaging presentation by Bruce – what he has accomplished to get this far, and how he intends to meet the Vendee Globe Challenge head-on!
This will be a fun and educational evening. Step aboard the very edge of a racing sailboat design and see how a combination of wood and high-tech composites can come together to create one of the fastest sleds on the planet. Hear first hand what it is like to be alone at sea, in big winds and waves, racing at the very outer limits of human endurance. The Vendee is considered to be the most grueling competition in the world today. Competitors can not stop, nor are they allowed any assistance from outside the boat.
$100 per person – a donation to Made in American Foundation, Inc.
Attention GMORA racers: moorings will be available at Robinhood for the night of July 30th in preparation for the Seguin regatta the following day.
See you there?
Bruce Schwab, Skipper
USA 05/Ocean Planet