Home > Journals > 2004 Relaunch – Les Sables
Ocean Planet/USA 05 Update from Bruce Schwab:
Wednesday, March 3, 2004

Maine Momentum?
Hi folks,
I'm happy to say that there has been some great coverage of our program lately, both here in my winter home of Portland, Maine and elsewhere. Amy Sinclair of WGME TV (Channel 13 in Maine) did a nice piece on her TV show and stories have been popping up in various press outlets including the Associated Press, Portland Press Herald, Maine Coastal News, Munjoy Hill Observer, etc. Other articles coming up include a nice feature in Portland City Life magazine, etc.
For all of you cruisers or rigging aficionados, check out the March issue of Cruising World magazine to see my article on being the first to complete an around-the-world race with an unstayed mast.
Also, I'm proud to announce the support of WoodenBoat, one of my favorite all time boating magazines. WoodenBoat will be helping to promote my Vendee program with their huge following of wooden boat fans. Let's not forget that Ocean Planet is the only Open 60 racing the Vendee with a wood composite hull! I like to stump the boat techies by telling them that the boat is built with a "cellulose/carbon/kevlar fiber" composite and then watch the gears turn in their heads trying to think of what cellulose fiber is….;-)
Another supplier sponsor I'd like to bring to your attention is Equiplite (www.equiplite.com). As a rigger, I have to say that I REALLY love these super-lightweight connectors and use them all over the boat. They are the kind of innovative hardware that I look at and say "dang, I wish I thought of that myself…" Stay tuned for future news on some new custom fittings they are making for us.
My February 21st talk at Portland Yacht Services was a fun evening with a good turnout, and I hope to get another good group at my next talk on Saturday, March 13th.
Over this last week, I attended the Ibexu Marine Trade Show in Rockland, Maine (on behalf of Coast-Line Composites), and the New England Boat Show in Boston (with Doyle Sails). Our search for the right title sponsor continues, so I have been spending a great amount of time following up leads and contacts, but I'd rather be working on our boat!
The volunteer help I have been getting on the boat is a huge help, but we need to hire a full-time staff as soon as possible to stay on track. There are only 248 days left until the start of the Vendee, and we need to pick up the pace. We really need your continued support now more than ever. Let's get Ocean Planet back out on the water and really tuned up for the Vendee! Here's a "flashback" Billy Black shot from the start of Around Alone Leg 4 in Tauranga, New Zealand…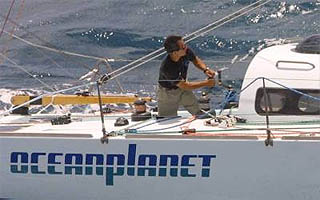 Bruce Schwab, Skipper
USA 05/Ocean Planet