Home > Journals > 2004 Relaunch – Les Sables
Ocean Planet/USA 05 Update from Bruce Schwab:
Tuesday, July 7, 2004
At long last! Out of the barn! Launching and party next week, so don't miss it!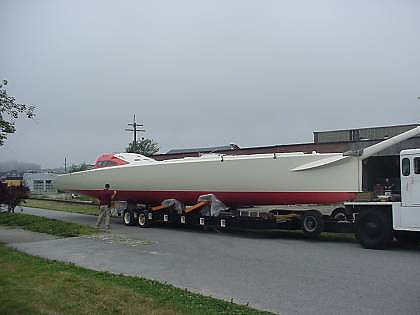 Man oh man, what a long winter and spring this has been. Ocean Planet came out of the shed at Portland Yacht Services today sporting her new colors and new bow (didn't know about that one, did you!).
Tomorrow she goes up on a custom cradle, and the keel blade gets dropped into the trunk. The rest of this week will be spent putting the finishing touches on the keel and attaching the bulb, fairing the keel to bulb joint, then repainting the keel, rudder and bulb, etc. We will also be putting on the supplier sponsor logos (still looking for a title sponsor!), mounting deck hardware… and the list goes on and on, but we WILL be relaunching on the 14th. Be there and you will get to see another new feature on the boat that has been a little secret. See the launching in the morning and then come back for the open house and party at 5 p.m.!
Special mention today is our supplier sponsor Portland Yacht Services, and especially their fearless leader Phin Sprague. Phin has been tireless in promoting Ocean Planet here in Portland, and the whole yard crew has been great. Those who know me know what a pest I can be to a boatyard, but fortunately Phin is as big a dreamer as I am. He and the yard have tolerated my shenanigans admirably! Thanks!!
Ocean Planet needs you to join our supporters and our suppliers like Portland Yacht Services. We need your help to finance the big ticket items like the new boom, sails, communication equipment, and an endless list of supplies. I am doing all that I can to prepare Ocean Planet for the Vendee Globe, and the boat herself will be ready. But to have pulled this off without a title sponsor or really big donations has exhausted the resources of The Made in America Foundation (and myself). Have you wondered how on earth we have gotten this far? So do I. We are all so proud of our boat and our team, but financial sleight of hand can only go so far. Please don't let the past four years of work, dreams, and the sweat of countless volunteers come to naught.
See you at the launching!
Bruce Schwab, Skipper
USA 05/Ocean Planet