Home > Journals > 2004 Relaunch – Les Sables
OCEAN PLANET– EVENT NOTIFICATION

Check it out!
MAINE GOVERNOR JOHN BALDACCI
TO BE FEATURED SPEAKER AT THE LAUNCHING OF
"OCEAN PLANET"
SOLO ROUND-THE-WORLD RACING YACHT IN
PORTLAND, MAINE!
DATE OF EVENT: July 14, 2004
LOCATION: Portland Yacht Services, 58 Fore Street, Portland, Maine
SPEAKERS: Maine Gov. John Baldacci; Bruce Schwab, Skipper of Ocean Planet; others TBD
Additionally, a reception and "open boat" for supporters of Ocean Planet will be held at Portland Yacht Services at 5:00 p.m. on July 14th.
TIMES: (events open to public)
8 – 9 a.m. stepping of the unstayed mast
9 -10 a.m. – preparation for launch
10:15 to 10:45 a.m. – introduction of Gov. Baldacci, Bruce Schwab, launching at high tide
5 p.m. reception, Ocean Planet open for viewing
Refreshments provided by Captn Eli's Root Beer (see www.captneli.com/youthadventure.php)
Is this cool, or what!
BTW, here we are going up on the custom cradle designed by Phin Sprague and built by Portland Yacht Service: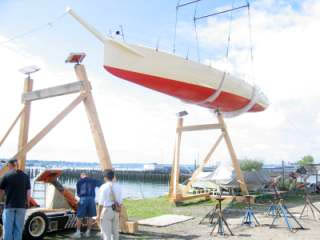 And on the cradle with the keel blade dropped in:
See you at the launching!
Bruce Schwab, Skipper
USA 05/Ocean Planet