Home > Journals > 2004 – 2005: Vendée Globe
Ocean Planet/USA 05 Update:
Friday, September 3, 2004
Relentless
That's right, I said I was scared. But if someone ISN'T a little scared of the challenges faced before and during the Vendee Globe, then they are REALLY nuts.
But lest you think that I am just a heap of doom and gloom, keep in mind how we have come. Also don't forget something about me that you should know by now:
I Never Quit.
We may be short of cash and out of credit, but we DO have lots of good news. Over the next few weeks I will filling you in on many of our fantastic supplier sponsors who products will help get Ocean Planet around the world. BUT FIRST:
News Release!
Bigelow Laboratory and Ocean Planet forge Educational Link
West Boothbay Harbor, Maine (September 3rd) — Bigelow Laboratory for Ocean Sciences and The Made in America Foundation today announced an innovative educational partnership and outreach project, which will start in mid-September 2004.
Bigelow will collaborate with Bruce Schwab, the Skipper of Ocean Planet, to provide Web-based oceanographic education programs during Schwab's upcoming attempt to win the Vendee Globe race. The Vendee Globe is a grueling solo, non–stop, around-the-world race. Schwab is the only American entrant.
Bigelow's and Ocean Planet's web sites (http://www.bigelow.org/, http://www.bruceschwab.com/) will be linked together. Bigelow will provide a series of ocean science web references that will follow the race. The sites will also feature weekly journals that Schwab will post via satellite email.
Students, educators, researchers, scientists, and others throughout the world will be able to read about Schwab's observations and experiences, then dive in deeper through Bigelow's in-depth web links. The program is designed with students and educators in mind, but will benefit students of all ages and interest levels. Teachers can log on to either website to find a compelling oceanographic education tool that provides an exciting, relevant approach to understanding world's oceans.
Schwab's journal entries will also help viewers gain an understanding of what it's like to navigate and sail in the most remote areas on the planet.
Topics on the web-site relate to the oceanographic processes that will be encountered during the race, including:
the Gulf Stream

upwelling and productivity

hurricane formation

mid-ocean ridges

major currents

temperature and salinity

winds and waves

icebergs and sea-ice

Amazon River outflow.
About Bigelow Laboratory:
Based in West Boothbay Harbor, Maine, Bigelow Laboratory for Ocean Sciences is a world-renowned not for profit organization dedicated to marine research and education. Bigelow's principal concern is the biological productivity of the world's oceans. Bigelow is supported by federal research grants and private funds, with the National Science Foundation as the key agency.
About Ocean Planet:
Ocean Planet was built by the not for profit The Made in America Foundation to race in the solo Around Alone & Vendee Globe Races. The Made in America Foundation's mission is to create an educational platform to promote the importance of our world's oceans through the excitement, adventure and dynamic realities of sailing at the edges of our Earth, which is truly an Ocean Planet.
***
Not bad, eh?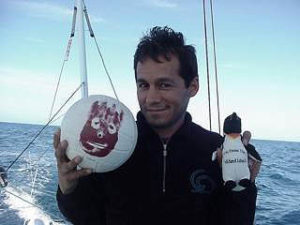 Bruce Schwab, Skipper
USA 05/Ocean Planet