Home > Journals > 2004 – 2005: Vendée Globe
Ocean Planet/USA 05 Update:
Tuesday, September 7, 2004
New Shipping Sponsors for Ocean Planet!
Like Calvary riding to the rescue, MOT INTERMODAL shipping and SHIPCO TRANSPORT have come aboard Ocean Planet as Supplier Sponsors in the nick of time!
Just over a week ago I was scrambling to find a 40-foot shipping container and get it to the Vendee Globe race center in Les Sables d'Olonne. As with most ocean racing boats, we have tons of junk (er, supplies) that need to be available for the final month of preparation in France. Short on time and money, I wasn't sure at all that I could pull it off and so I was thinking of stuffing the boat FULL and taking all I could on the sail across the pond!
But big thanks to Ernie and Bette Reuter of Burlington, Vermont (who are supplying fantastic canvaswork for our new storage lockers and also a new antenna railing). Ernie introduced me to Ole Enderslev of MOT Intermodal, who is teaming up with Klaus Jepsen of Shipco to solve our shipping needs. Ole says: "No problem, this is what we do!"
To find out more about these great folks and their services, please visit: www.motintermodal.com/
&
And NO, you can't ride in the container to France!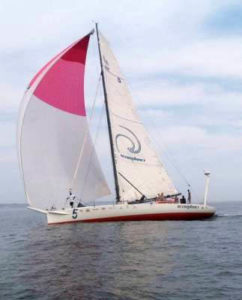 More sponsor and partner news soon…
Bruce Schwab, Skipper
USA 05/Ocean Planet