Home > Journals > 2004 – 2005: Vendée Globe
Ocean Planet update:
Tuesday, October 5, 2004
Arrival in Les Sables d'Olonne.
Well, here we are. The last time I was in Les Sables was for the start of the last Vendee in 2000, which seems like yesterday and a hundred years ago, at the same time. We have come so far, but there is still so far to go in the next few and very short weeks.
The trip across took roughly 10 and 1/2 days, from 4 p.m. ET Thursday, September 23rd to the harbor entrance this morning at 0530 ET–0930 UT. We were lucky to miss a few hurricanes, winding up with only two rough fronts (one was an extension of the remnants of Hurricane Lisa).
However, we were not so lucky in the underwater department. The press release below tells it like it is, and I will know more tomorrow after I dive under the boat to inspect the damage.
Bruce
MEDIA ALERT
Obstacles in North Atlantic Threaten Lone American World Racer
PORTLAND, MAINE (October 5, 2004) – After a decade of preparations, American sailor Bruce Schwab was counting on an uneventful crossing to France for the start of the single-handed Vendee Globe round-the-world race. Instead, while dodging hurricanes in rough seas, his boat, Ocean Planet, collided with unknown submerged objects twice in two days.
In a satellite e-mail to his supporters Schwab reported "both times we were traveling at 15 knots (nearly 20mph) when there was a deafening crash. I don't know what we hit but I'm certain they were not whales or sea life. We will haul out in France and assess the damage. We're in a race against time."
Schwab estimates these unexpected emergency repairs along with other last-minute preparation costs will top $50,000.
He does not have the money.
After years of fundraising, Schwab has received donations from thousands of supporters, but has yet to gain the corporate support to match his top European competitors.
Schwab's goal is to achieve a breakthrough in U.S. sailing by becoming the first American to finish the race. He is the only American qualified to compete.
He and his small delivery crew arrive in France today.
Ocean Planet supporter and development manager Geoff Lamdin said a lack of funds could force Schwab to withdraw. "He is so close. What Bruce has accomplished to get this far is absolutely amazing. He has rallied unprecedented public support from over 37 different states as well as several other countries. One reason for this is people see his dedication to the long-lasting success of the Ocean Planet education program."
The prestigious Bigelow Laboratory for Ocean Sciences of West Boothbay Harbor, Maine has partnered with Schwab to offer an inspirational Ocean Sciences course tied to his Vendee Globe race. Thousands of students following Schwab are on edge, hoping he makes the start. "It will be a tremendous loss for those kids if Bruce doesn't find the support he needs to make the race," said Donna Lee Cheney, Chairman of the Board of Bigelow Laboratory for Ocean Sciences.
"My desire for a top placing is strong, but my desire to make something meaningful from all this is even more so." said Schwab.
Schwab and a small delivery crew left Portland on September 23. Pressed for time and dodging hurricanes Karl and Lisa, Ocean Planet is expected to arrive in Les Sables today, giving just enough of a window to effect repairs before the race if Schwab can raise the funds he needs in time.
The quadrennial Vendee Globe is one of the world's most challenging and extreme sporting events. Competitors must sail non-stop and alone around-the-world, without help. The race starts in Les Sables d'Olonne, France on November 7.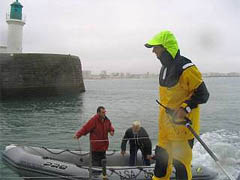 Bruce Schwab, Skipper
USA 05/Ocean Planet