Home > Journals > 2004 – 2005: Vendée Globe
Ocean Planet Vendee news:
Friday, October 8, 2004
The latest news….
–Diving on boat with the local officials
–Emergency financial help from International Ocean Planet supporter!
–Press release from race organization
Well folks, it looks like we might pull this off after all. I dove under the boat yesterday with some help from the local diving club (including the Vice Mayor of Les Sables!), and what I discovered that the damage from our collisions is not severe. What a great big sigh of relief! However, we still need to haul out and do minor repairs for some abrasions and reglass our keel winglets. At least there is no major structural damage, which I have to say makes me feel very good about this boat and the durability of the keel. Given the impacts that we had it is amazing there so little damage. Schooner Creek Boat Works built one tough boat!
I'm the one in the lower right in the pic below: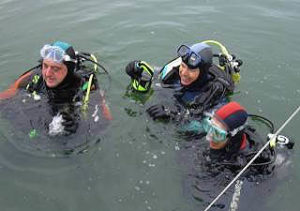 Over the past couple of days there have been many donations that are really helping to keep us afloat. However, it hasn't been enough to meet the overwhelming costs for our haulout, minimal sails and sail repairs, required liability insurance, payments on our many debts, and a million other details. In an amazing example of support, longtime FRENCH supporter Serge Martial has offered The Made in America Foundation an emergency loan of $50,000 to help get us to the starting line. Serge has already donated several times to Ocean Planet and although he could not donate more he is a committing a good chuck of his personal savings. Serge is joining a very brave group of donors and lenders who believe in our dream. YOUR DONATIONS WILL HELP US TO REPAY THESE LOANS, some of which are very very old…
Thanks to Serge and especially everyone who has made a contribution at this critical time! We are the American boat with International supporters! Is that cool or what?!
The suspense builds! Here's the latest press release from the Vendee Globe organization:
VENDÉE GLOBE 2004 : 8 DAYS TO GO BEFORE THE VILLAGE OPENS AND 30 DAYS BEFORE THE START
With just thirty days to go before the start of the Vendée Globe and only 8 days before the official village opens, the excitement is building in Les Sables d'Olonne, where the race village is being set up. As for the entrants, Anne Liardet has confirmed her entry and Patrick de Radiguès is bowing out. Here is a look at what is happening 1 month away from the start of the single-handed trip around the world.
22 skippers lining up at the start
The little family of skippers has now been reduced to 22 competitors, since the Belgian yachtsman, Patrick de Radiguès announced today he is standing down, after his sponsor Harmony Capital Group could not confirm their support. Anne Liardet, on the other hand, has had more success, as she announced today that she has signed with a new sponsor. Her boat will now be called Roxy, taking the name of Quicksilver's women's sportswear brand.
5 boats already in Port Olona
PRB (Vincent Riou), VMI (Sébastien Josse), Ocean Planet (Bruce Schwab), Austria One (Norbert Sedlacek) and Raphael Dinelli's yacht are already moored up on the Vendée Globe landing stages in Port Olonna. While the technical staff and preparation team are busy making some final adjustments to these craft, the rest of the little armada is expected by the race organisers by 9 a.m. on Saturday 16th October at the latest.
Forthcoming appointments
3 p.m. on Friday 15th October: the official inauguration of the race village in Les Sables d'Olonne, 10 a.m. on Saturday 16th October : first briefing with the skippers and opening of the village to the public.
Internet: D-Day minus 5
Designed to offer the general public the possibility of following the course as it happens, the new official site for the Vendée Globe will be "opening its doors" next Wednesday. A press section will allow you to obtain an accreditation and download all the documents meant for the press. Make a note of the address: http://www.vendeeglobe.org/
Technical information: the press room, opening from the 15th October, will be equipped with freely available high speed digital links + Wi-Fi Orange access (this requires a PCMCIA card and a subscription to Orange Telecom).
Media Contacts
Written press – internet Caroline Concetti +33(0)6 07 57 28 02
Written press – radios Soazig Gueho +33(0)6 62 08 75 44
French and International TV stations Laetitia Briand +33(0)6 60 76 92 78
International press: Sabina Mollart-Rogerson and Ophélie Théron +34(0) 666 759 530
(Media contacts for Ocean Planet: U.S.: Tami Kennedy: tami@maine.rr.com, Europe: Aline Galvez: aline@pacbell.net)
Ok, I'm back to work!
Bruce Schwab, Skipper
USA 05/Ocean Planet