Home > Journals > 2005: After the Vendée Globe
OceanPlanet news,
Nov 10, 2005
*Exciting Transat Jacque Vabre race
*Coming news for OceanPlanet!
*Successful MITC trip to France
Glued to the computer!:
If you are like me, you are enthralled with the current edition of the biennial Transat Jacque Vabre (TJV). This years race (doublehanded from Le Havre, France to Salvador, Brazil) has been underway since last Saturday and is one of the highlight events on the Open 60 racing circuit. There are four divisions, ORMA 60 Trimarans, IMOCA 60 Monohulls, 50′ Tris, and 50′ Monohulls. For those of you who have followed OceanPlanet since the beginning, you might remember that the first time I was ever in France was to see the start of the TJV in 1999.
So far, the 2005 edition of the race has been nothing short of dramatic with many boats sustaining damage. Seven of the ORMA 60 tris have abandoned the race with at least two having flipped over. Ouch! Thankfully everyone is accounted for. Join me in cheering on the three Americans in the race! (all racing in the 50′ Mono division): Skippers Joe Harris aboard "Gryphon Solo", Kip Stone with "Artforms", and as crew Ryan Finn aboard Polarity Solo! Joe is leading the 50's this morning, while Kip has had to make an emergency stop in the French port of Lorient to replace a torn mainsail.
Back here in Maine:
OceanPlanet will soon be relaunched, ready for Leg One (Portland to St. Augustine) of our winter sojourn to Florida. We are also settling into our office space at Portland Yacht Services, and getting The OceanPlanet Foundation organized. Stay tuned for our new website, a new overall look, and an announcement about the 2008 Vendee Globe race….yes, I know what you are thinking….
MITC (Maine International Trade Commission) trip to Les Sables, Lyon, and Paris:
It would be hard to cover all that happened and the great people I met on my Oct 22-29 trip to France with Governor Baldacci's Trade group. But the highlight for me would have to my 1.5 day visit to Les Sables d'Olonne. As the start/finish site of the Vendee Globe, my connection with this town is very deep and emotional. For this trip I met with city officials of Les Sables, and also a separate meeting with business and government representatives of the General Council of Vendee Region itself. Developing relations for Maine and the Vendee Region will take time but there is much interest. If you can read French, here is a nice article about my meeting in Les Sables: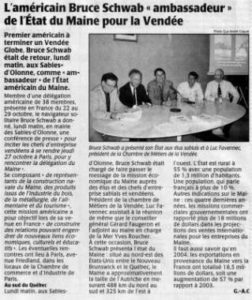 But the most fun was a personal reception by our many friends in Les Sables that evening. Do you remember our OceanPlanet friends Alice and Melissa?
Ok, enough reminiscing! I'm off to work on the rotating mast step bearing and inspect some keel work!
Bruce