Home > Journals > After Around Alone
Ocean Planet Adventures
Tuesday, June 10, 2003

Hi Everyone,
In spite of not needing to get ready for another leg of the Around Alone, I've been having some action packed days, keeping many cogs in motion. Top on the list is getting used to being "normal" whatever that is. At least I can stay up all day now without a nap.
Much is happening….let's see, where do I start? Well, for one thing I've been organizing hundreds of pics, so here are some coming chances to see my Around Alone slide show (darn good, if I say so myself), and hear some solo sailing stories (nearly all true!):
For you East Coasters, Ocean Planet and I will be at the Wooden Boat show in Rockland, Maine, June 18-20. Spots are available (for a donation, of course) on the overnight sails to and from the show from the Herreshoff Museum in Bristol, Rhode Island. Tentative sailing days: To: June 16/17, From: June 21/22. Big thanks to the Museum folks for looking after our trusty steed until I get back there on June 14th.
Thursday, July 10th, 6-9 pm: I'm honored to be in the series of speakers at the Corinthian YC in Tiburon. They have quite a series lined up, with Dawn Riley this thursday (June 12), Richard Spindler (famous editor of Latitude 38 magazine) on August 14th, and Paul Cayard on October 9th.
Saturday, July 26th: Visiting the sailing hub of the Delta, Stockton YC. Shall I play some "Swamp Slide" guitar? We'll see.
Date TBA in September: Major shindig at my home club, the Encinal YC in Alameda. Stay tuned for details…
BTW, Later this summer (or fall), you should be able to purchase a CD of offbeat and interesting guitar music by none other than your faithful sailing reporter, me. Stay tuned!
Thanks to all of you who are continuing to support Ocean Planet. I am working hard to lay the groundwork for the Vendee Globe, which includes building an enthusiastic team to help us find sponsorship partners. I hope to officially announce our Vendee PR Team soon, and also our returning supplier sponsor group later this summer. Thankfully, contributions to The Made in America Foundation continue, which is really key to keeping things going.
This weekend I'm racing down the California coast to Catalina Island, with super supporter and Ocean Planet shore crew slave, Stephen Hodges, aboard his Express 27 "Dianne". We will be among the smallest boats in the fleet, which is quite a change from an Open 60! But it should be a gas, as I love zipping along on small light boats in the ocean…as long as it's downwind….;-) The last time I did this race, it was on the hot 31′ sportboat "Azzura", when we slayed all for the overall win. Don't know if we can pull it off again, but I'll send a full report next week.
Just for kicks, attached is a shot I love of me and my old boat "Rumbleseat" heading out the Golden Gate bridge, on our way to winning the Singlehanded Transpac in 1996….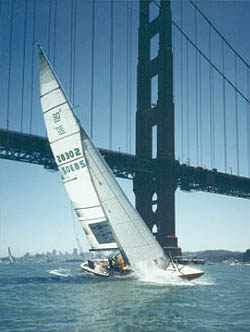 Bruce and Ocean Planet