Home > Journals > After Around Alone
Ocean Planet Adventures
Tuesday, July 08, 2003

Hi all,
If you are planning to attend my slideshow and talk at the Corinthian YC this Thursday, you might want to make reservations…. it's filling up fast! Here's the info page on their website: www.cyc.org/speakers/bruceschwab.html
If space runs out, or if the CYC is too far away, your schedule conflicts, or if you like the show so much that want to see it again….don't forget that I'll be at the Stockton Sailing Club on Saturday, July 26, at 6pm. Here the web page for them: http://www.stocktonsc.org/ (Party on the Delta!)
For those that want to sail on Ocean Planet themselves, contact me before July 15. In case you forgot, she heads out from the Herreshoff Museum in Bristol on the afternoon of the 16th for the Wooden Boat show in Rockland, Maine. The trip back to Bristol will be on July 21/22.
Attach is a pic of the great kids from the Herrshoff Museum Junior program that we took sailing just a couple weeks ago…
Smooth Sailing everyone!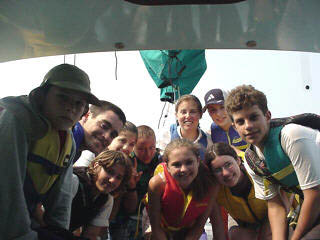 Bruce
Skipper, Ocean Planet