Home > Journals > After Around Alone
Ocean Planet Adventures
Monday, May 19, 2003

Wow, what a week!
It's been a whirlwind of activity here in Newport, celebrating the finish of the Around Alone 2002/2003. It seems I've had less sleep and am more tired now than while I was racing! Wednesday was my first lecture/talk since finishing, at a convention of New England Postmasters, which was fun.
Wedns eve was our Ocean Planet Bluegrass Music party at Christie's in Newport. What a turnout! Thanks to everyone who came to enjoy the music and an extra big thank-you for the donations and orders for Team wear. Super Teacher Glenn Dewell, from Bain School (more on Bain School below) organized a great evening, and isn't a bad Bluegrass singer, too!
Thursday I visited the fantastic Herreshoff Museum in Bristol. I was a kid in a candy story checking out all the pictures, models, and restored boats representing America's most legendary boatbuilder and designer: Captain "Nat" Herreshoff, Also known as "The Wizard of Bristol" We are taking Ocean Planet to the Museum for the Bristol Boat show this weekend, which should be a blast! Come on down and visit us at the show, and see some of the best of boating history at the same time. We are also planning some work with the Museum Junior program later this summer.
Thursday night was a very special get together with another Super Teacher, Kathy Guzzo and her 2nd graders, known as the "Guzzo Gang". The class and their parents followed every mile of our race around the world, participated in the HSBC Global Education Challenge, and produced an overwhelming amount of logs, pictures, and notes though the race. They drummed up sponsorship to finance taking a charter bus all they way from New Jersey (4+hrs!) and to host an amazing dinner and evening for us skippers. We were delighted by their "Albatross" tribute dance, and also a special tribute dance for Emma that included sewing to music (remember when she ripped her mainsail in Leg 3?) and tailing big ropes, all in rhythm! We were presented with picture they drew of each of us and our boats. What a night!
But there was even more fun to come: the very next morning (Friday), we hopped on a bus and visited Bain School Junior high in Cranston. They also followed us around the world, under the influence of Super Teacher Glenn Dewell. They had set up a live TV interview with us in their auditorium which was packed. I felt like I had made the "Oprah" show, and even played an amplified guitar tune (popular demand!) for the assembly.
Big kudos to Super Teachers Glenn Dewell and Kathy Guzzo! They say that us solo circumnavigators are heroes, but I think they are the real ones.
Then Friday night we rushed down to the Museum of Yachting in Newport for the opening of Billy Black's awesome photo exhibit of the Around Alone race and history. Billy is a legend in Newport but he and wife Joyce outdid themselves with this one. Everyone who is anyone in Newport sailing was there!
Was that it? NO! Satuday eve was the Grand Finale of a grand week, the Around Alone Awards dinner, also at the Museum of Yachting. I won't go into detail, but it was a wild night, complete with a band flown in from the UK by Andrew Pindar (Emma's Sponsor). HSBC and Tommy Hilfiger (Brad's Sponsor) also pitched in to make the party a real doozy.
I need a rest!! Then it's back to fundraising to pay the bills for the Around Alone race, and begin the groundwork to find a sponsor for the Vendee Globe in 2004/2005….that's not far away! Especially since I still need to finish our boat in order to be as competitive as she deserves to be.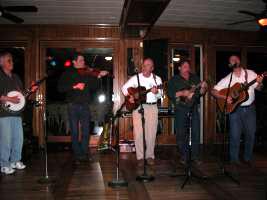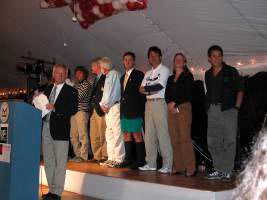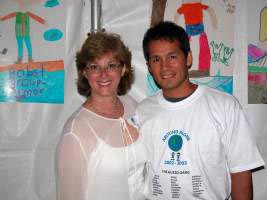 Bruce and Ocean Planet