Home > Journals > After Around Alone
Ocean Planet Adventures
Monday, June 02, 2003

To all of the supporters of Ocean Planet in the Around Alone:
The feelings and sights of the last couple years are coming back to me in flashes…. Much of the trip is tucked away in my memory, still waiting to come out, so but so many images and faces now pop up unexpectedly, making me laugh or reflect. As the memories come up in my mind, I'm overwhelmed with gratitude for how much everyone has put into Ocean Planet's long journey. Many of you I knew well already, and a great many that I never met before.
I'm terrible with names (my memory only works well on boat parts and rigging…), but I'm going to give it a shot. If I miss you please drop me a note! Names are listed in no real order, other than as my memory pulls them out…To everyone below: Thank you thank you thank you thank you!!!! Your belief in me helped me believe in myself.
The creation of Ocean Planet:
A very special thanks to ALL of our early contributors, especially Kevin & Shauna Flanigan (who make it possible to BE Ocean Planet), Adrien Fournier (the very first!), Philippe Kahn & Sonia Lee (who gave us a VERY big push), all my friends in the Singlehanded Sailing Society, and of course the Encinal YC. How about Ellen McArthur, for christening the boat in Oakland! Mark Wiltz for creating our website! Impossible to list everyone here, just take a look at the contributor's page on our website and you'll see what I mean. What a boat, she made it around and she's not even finished!
My team of fellow dreamers:
Tom Wylie, Steve Rander, Ted Van Dusen, Erich Chase, Paul Bogataj, Larry Tuttle, Liem Dao, Bill Colombo, Will Paxton, Don McCleish, and of course our supplier sponsors: AMD, MAS Epoxies, Forespar Composites, Samson Rope Technologies, The HSBC Education Trust, Spectra watermakers, Nexus Instruments, Schooner Creek Boat Works, Doyle Sails, Infomatrix, Nobeltec, Waypoint/HF Radio on Board, EveryOcean.com, and of course Mariner's Vitamins! Joan Garrett for tons of work, drive, and sweat. T'lop (Louise Felsher) and Marcel Rampini for the great emails. Collective dreaming makes the world go around, or at least makes us go around the world!
For getting us out of California, to the east coast, and my qualifier:
Greg Nelson, Stephen Hodges, Frank Slootman, Lydia Vargas, Richard Ray, Hank Grandin, Howard Holmes, David Olson, Serge Martial, George "El Diablo" Luna, Dave & Beki Fullerton, the Antigua team, Bosse Svantesson, my Dad, Chris Flanigan, Stephen Buckingham, my Mom, Rich Jones, and Edie Felix. Also: all my friends at Svendsens, Marina Village, Matt Peterson, RBS Battens, Carol Snow, Charleston Boatworks, Gille Campan, Andrew "Bam Bam" Oleksiak, and our pal Quinn.
The core Ocean Planet Shore Team:
Fearless Leader Ashley ("don't break anything else!") Perrin, Betty Schmidt, Jason (Argo Rigging) Winkel, and Stephen (Capn Bayliner) Hodges. More of our team(s) at the stopovers coming up below….
Joining the fun in Newport, the prologue, and the start:
Billy & Joyce Black, Victor Pinheiro, Moe Roddy, Joe Colpitt, Barbara & Noel Davis, Newport Shipyard, Tim Leary, George & Mary Beth Pike, Margo Waite, Rob Mense, John Hanna, Mark Deppe, JB Currell, Jan Brandt, Lydia, Serge, Greg, Stephen B, Stephen H….I never thought we'd make it but we did.
The amazing first stopover in Brixham, where we put on the new boom, beefed up the ballast tanks, etc, etc:
Malcolm & Janice Cook, Richard Clifton, Calvin and Jane Moulder, John (a great fiddler!), Stuart, Roger, Reg Hill, Commodore Chris, and the great yacht club. For getting us the new boom against all odds: Ted Van Dusen (Composite Engineering), John Zisa (Zedsailing.com), Tim Danford, Lydia, and Andrew Roberts. Without all of these folks help our race would have been over after just one leg.
Thanks to the Monte Real YC in Bayonna, Spain, for hosting the unofficial "leg 2.1" stopover!
At our stop in magical Cape Town, South Africa:
Glenn & Fre Langridge, Jannie De Goede, Bryan Catley, all the great kids who volunteered, the HSBC Global Education Challenge Roadshow, and that little girl rap singer at the township school we visited…read my update from then, talk about inspiration! Thanks to Kevin & Shauna (again!) for the new main & jib. Our core shore crew outdid themselves in Cape Town, which only served to prepare them for:
Tauranga, New Zealand!:
What an amazing welcome and stopover. It would take ten updates to thank everyone who came our rescue in Tauranga, but here's just a start: Don & the team at Hutcheson Boatbuilding (Bow mods/crash box), Southern Ocean Marine (water ballast tank), Bridge Marina travelift, Future Fibres, Marine Diesel, Superhero cruisers Garth and Wendy (what a duo!), Ayn Woodruff, Robyn Croft, Roy & Sue Walmsley and family, Alan & Barbara Morton, Gordon MacLeod, stopover Queen Mandy Scott-Mackie and husband David, all our friends in the race village especially John Panoho and the Te Aurere team; Hannah & Lou at the HSBC tent, and Trevor at Mayers Music for loaning me the Martin guitar! Also there: Kevin, Chris, Lydia, Rich, Edie…supplementing the heroic shore crew!
Leg "4.1" stopover, Port Stanley, Falkland Islands:
Colossal thanks to Erich Chase of Chase Boats who performed the now customary miracles! Joining me and Erich was a great group of friendly Falklanders: Adam Cockwell, Chris Harris, Robert, Stephen Dent….who am I forgetting?
Final stop in Salvador, Bahia, Brazil:
Ashley, Jason, and Stephen performed their coup de grace, in spite of brutal heat and nasty diseases…. Also thanks to Centro Nautico, Daisy, and Dominique, and of course Team Pindar for loaning us Nick and Lucy! Thanks to Antonio, for showing me the rich culture of Salvador.
Back in the US!:
Reentry has been made much easier due to the hospitality of Bill & BJ Stephens, Charlie Reade, Christie's in Newport, Glenn Dewell and his Bain School Superkids, and of course Kathy Guzzo and the mighty Guzzo Gang! Thanks to the Herreshoff Museum in Bristol, if any of you haven't been there, go!
And I won't forget:
All my fellow competitors, who always helped me and each other whenever they could. Tools and advice were always there when needed. Serge Viviand for his help and humor, and the hardworking Around Alone race team of Kels Gilkison, Mary Ambler, and Brian Hancock. To Ann Thomas' 5th grade kids. To Brad Van Liew, for the inspiration, advice, and jokes from '99 all through the prep and the race. I seriously am going to miss all of you, and might have to go race this other little race I heard about in France next fall, just so I can run into many of you again….;-)
So, to everyone who helped:
All of you deserve to share the pride that I have for this great Team Accomplishment. It was not really a singlehanded race
And finally to my family: My Mom, my Dad, and especially my partner Jeanie.
All of them had their reservations about this whole endeavor (I don't blame them!), and put up with a lot but supported me all the way though. BTW, I will keep these updates on our adventures, as we work towards the Vendee Globe race next year. Our job isn't over yet, so stay aboard for the ride and watch for coming news and events!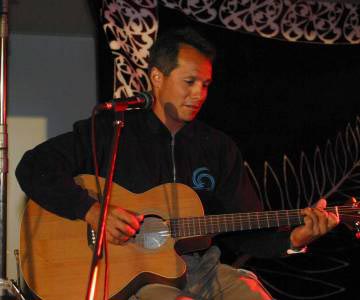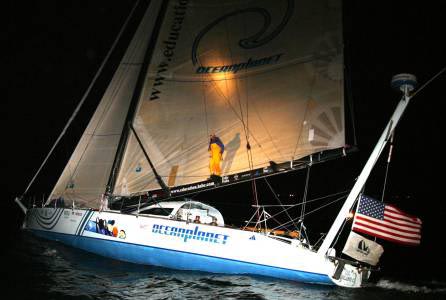 Pics by Billy Black
Bruce and Ocean Planet