Home > Journals > 2004 – 2005: Vendée Globe
Ocean Planet Vendée Globe Update:
Wednesday, November 24, 2004
Position 17 37S, 27 30N, @ 12:50 UT
Chasing, chasing, always chasing.
The past few days since the doldrums have been ok sailing-wise, but pretty hard from the competitive standpoint. Day after day of medium wind jib close reaching, our worst point of sail relative to the other boats, resulting in an inexorable loss of miles at nearly every report. I've been trying different sail combinations and positions, and have made slight improvements but no where near what is needed to keep up.
There are several reasons for this weakness, it is no mystery. Mostly, the wider boats with expensive canting keels are really optimized for these conditions, but this boat still has a long way to go before reaching (no pun intended) it's potential. For one, we are lacking a proper close reaching sail. Our "Yankee" style jib which is the one to use is a 9oz Dacron sail from before the Around Alone. A new Doyle D4 or Cuben Fiber one would be much faster but wasn't in our credit capacity. Also, one of my plans while on our 'weight reduction' plan in Maine was to replace much of the weight that we took out elsewhere in the boat with lead added to the keel bulb to increase our power in exactly these winds. But before I could get it done it was time to launch and go! But better to be in the race with 'whatcha got' than to spend forever dreaming and never make it!
So I keep changing between our nice new D4 working jib (too small) and the Dacron reacher (too old) and reefing and unreefing our Cuben Fiber mainsail to find some kind of groove. Of course as soon as think I have something going the wind changes just enough so I have to start over again. The end result of all this work is primarily that my arms are getting bigger…which will come in handy later in the race.
On the bright side, one super bit of news is that our solar panels by Solara Energy (www.solaraenergy.com) are working great. In fact, I have gone (in one stretch) almost a whole FOUR DAYS without charging with the engine, running entirely on the power brought in from the sun. Sure, I turn a lot of stuff off and am generally miserly with the power, but to run the autopilot, computer, phone, and lights, etc, on a 60ft boat with solar power is pretty darn cool if you ask me. I am on day two of this particular stretch, we'll see if I can beat the four day record….but of course it depends on the lack of clouds! Every bit of fuel I can save will come handy when I need to run the heater in the cold south….;-)
Check it out:
Here our energy monitor is showing our "auxiliary amps" which is the amperage coming from the solar panels. Keep in mind that we have a 24 volt system (with all the 12V panels hooked up in pairs, or in 'series', to get to 24V), so the 12.0 amps showing is equal to 24 amps in 12V. Not bad! Of course this is in direct sun. Thanks to the folks at Solara Energy and also to Dave Dodson of Portland, Maine for his help with the installation!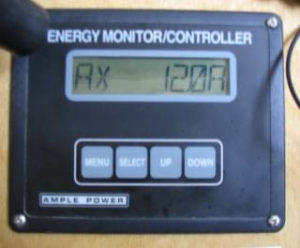 Uh-oh, I hear the food calling….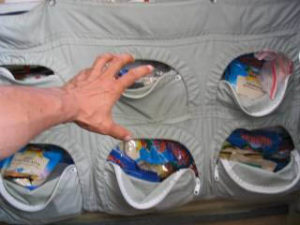 And it is time to mess with the sails again……grrrr…..
So I best be going for now.
Be sure to check out today's Race Report by Brian Hancock – a Bruce Schwab exclusive!
Bruce Schwab, Skipper
USA 05/Ocean Planet