Home > Journals > 2004 – 2005: Vendée Globe
Ocean Planet Vendée Globe Update:
Wednesday, February 2, 2005
Position 15 23S, 31 54W, @ 11:20 UT
More Good Stuff…
At last the wind is clocking to the east from the north easterlies that we have generally had for days now. This means we can ease the sheets just a few inches and pick up some speed. It's about time, as Joe and Conrad have gained a great deal while we have been beating our brains out, and it looks like they will have a very good window to pass through the doldrums.
Unfortunately for us it looks like the doldrums will expand and the window closes by the time we are there, but that's life. It will just slow us down a bit and probably wash the boat with a lot of rain….;-) Then, of course, it will be back to beating upwind in the north Atlantic trade winds. Ugh! It looks like parade to Les Sables with no options other than to just keep plugging along. I'm not complaining, it could be worse, a LOT worse…that's for sure.
Besides, it is sunny today.
Here are more Honorable Mentions of great stuff aboard Ocean Planet. Once again, I hope I don't jinx myself here!
Our mast! In the 02/03 Around Alone race, Ocean Planet became the first boat (as far as I know) to successfully RACE around the world with an unstayed mast. Now in the Vendée, this will be two complete trips around with only routine maintenance. Our spar builder, Ted Van Dusen of Composite Engineering, has an incredible safety record with these braided carbon masts, as they are very difficult to break and surprisingly light.
Battens: Before and during the Around Alone race, we broke every type and every brand of batten you can imagine. This is one thing about the unstayed mast, that it is very tough on battens. However, for the end of the Around Alone and for the Vendée, we have custom used braided S-glass/carbon battens by Forte, and have only broken ONE small top batten, which we made really light. These battens are incredible, and it is so nice not to have to worry about them anymore.
Here is a pic of our mast, battens, and Cuben Fiber mainsail all at work together: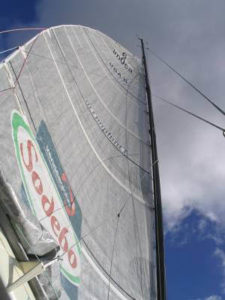 She is beautiful, no?
It is impossible to give credit to the endless volunteers who have helped on Ocean Planet, but I like to put these out there now and then. A special mention goes today to Jon Josephson of the JRJ group from Vancouver, WA. He has been a big help to me on various instrumentation, PC, and electrical issues, from the very beginning of the boat in Portland, Oregon. Thanks JJ!
Okay, one more. You have probably noticed our wonderful Ocean Planet "Wave" logo on our gear, etc. Originally created in concept by our talented good friend Kelley Forden of Canyon, California, our "Wave" was refined by San Francisco Bay designer David Halliwill. David also contributed his work through Isis/Nacio to the look of our great websites, http://www.oceanplanet.org/ and http://www.bruceschwab.com/. I love our logo, it is definitely a "keeper" as they say. I hope you like it enough to buy some Ocean Planet gear for yourself! It not only looks good, its good stuff, too…Check out Wilson in his stylin' OP cap:
Thanks to all for the great emails. I am feeling like the next 4,000 miles will be the most difficult for me of the whole trip, with Les Sables so near, yet so far. I appreciate the encouragement and support.
Bruce Schwab, Skipper
USA 05/Ocean Planet