Home > Journals > 2004 – 2005: Vendée Globe
Ocean Planet Vendée Globe Update:
Tuesday, February 15, 2005
Position 27 00N, 22 48W, @ 09:33 UT
A Nice Change…
In case you missed it, we have made a little sojourn to the east around a small depression that wandered off the African coast. So far so good, although there is the possibility of getting stuck in light air tomorrow or the next day if we don't get around it fast enough.
But in any case, since we are sailing downwind to the south of the depression, it is a very nice change from the hard upwind beating that had been on the menu for a long time. The respite is temporary as the north easterlies will fill in again soon, but I'll take the easting while it's easy. Soon (the day after tomorrow or so), we will be back to smashing away upwind. Oh well!
My current ETA is now around the 23-25th, as the going looks rather slow. I probably won't be pressing the gas pedal to the floor upwind, as there is no point in bashing the boat when the placing are not going to change!
Here's a shot from a couple of days ago slogging away: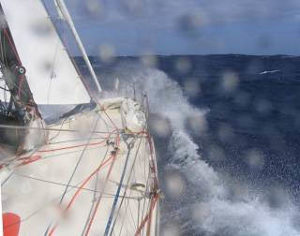 Compared to today: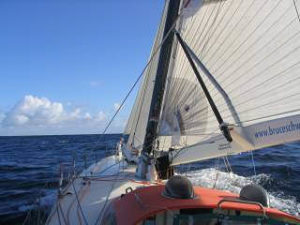 Ahhh…..big difference.
Not too much else to report, other than despite my careful rationing all the chocolate is gone. Thanks to Geoff Lamdin for the Vermont Maple Syrup, that has made a great treat now and then! Geoff also supplied me with vitamins and powdered drinks from Shaklee, which have been great.
I feel quite healthy, but have been trying to exercise my legs a bit. They start to feel rather rubbery after a long time at sea! Hopefully I won't fall down on the dock in Les Sables….;-)
That's it for now,
Bruce Schwab, Skipper
USA 05/Ocean Planet