Home > Journals > 2004 – 2005: Vendée Globe
Ocean Planet Vendée Globe Update:
Thursday, February 24, 2005
Position 46 16N, 02 31W (33 miles from finish!)
One MORE Night…
Ok, so I spoke too soon yesterday… one more night! The notorious Bay of Biscay, after dishing out an intial beating, today was a sunny mill pond with little to no wind! At least a team of porpoises entertained me for a good hour. I took some great video, but here is a pic of them cavorting about and welcoming Ocean Planet back to France: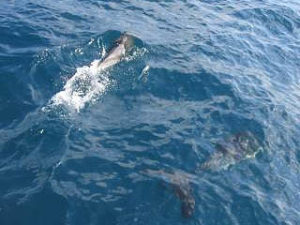 So after such a slow, and sunny day, the evening brought yet another twist… hail and snow!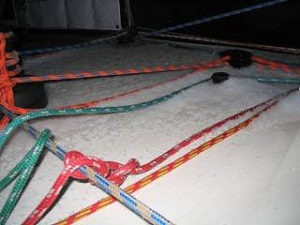 Sheesh! What a way to end a trip around the world… porpoises and snow!
The hail/snow squall has brought wind, but no telling how long it will last. I'm actually fine with being delayed until the daylight, as it would be fun to finish in the light. We'll see, and let you know tomorrow.
Thanks for following this long, long journey,
Be sure to check out today's Race Report by Brian Hancock – a Bruce Schwab exclusive!
Bruce Schwab, Skipper
USA 05/Ocean Planet