Home > Journals > 2004 – 2005: Vendée Globe
Ocean Planet Vendée Globe Update:
Monday, January 24, 2005
Position 41 33S, 54 09W, @ 16:28 UT
Stop… Go… Stop!
On the road again? It seemed like it yesterday with a great day of sailing in the sun. But a new low pressure front formed and plopped on us last night on its way east, first taking all the wind away, and then smacking us over with a sudden squall about 2 a.m.
The boat jibed and was pinned on its side in about five seconds flat, and I ran out in just fleece and socks for a good soaking. I got her back on course but when furling the reacher, the furling line got stuck in the drum with the sail half rolled up. It looked like I might have to lower the sail that way, which is nearly impossible in any kind of wind, but fortunately I was able to slide the furler drum aft on the bowsprit to the bow where I could reach it.
It took a few hours to get everything completely sorted out, including rinsing out the soaked clothes and a fair bit of stitching on the furling line in an effort to keep the line cover from sliding. This line takes a real beating in the drum when I furl the jib with a winch. The wind quit after the squall (of course), so all this was done while slatting violently going nowhere. The morning sked showed that we averaged two knots for the period. Ouch!!
Now the wind is finally building as was initially predicted days ago; better late than never but at this stage the angles are not going to be very good. Oh well!
One of the "good news" stories is our Nobeltec Insight 2 Radar. It is now working great even after the box suffered a soaking in the Southern Ocean. With Insight 2, there is no independent radar screen as the image is displayed on the boat PC and can be overlaid on the digital charts. I'm getting better at adjusting the settings, and I'm definitely hooked.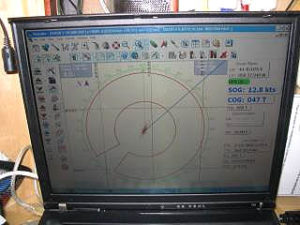 In the picture you can see the "guard zone" I have set around the boat. Nobeltec is my favorite for my basic charting (and radar), and I use Euronav's seaPro for my weather and performance work. I usually have them both running on OP's PC!
Saturday night we went through the most bizarre, brightly lit fishing fleet I have ever seen. The lights were so bright they lit up the sky from 15-20 miles away, and I thought that they were oil drilling platforms! It was spooky, and I was glad to sail away.
Last night started well (before the early morning crash and burn), with a great full moon rising in the dusk sky opposite a glorious sunset. These shots were taken at the same time: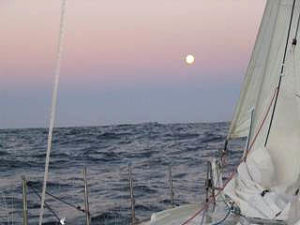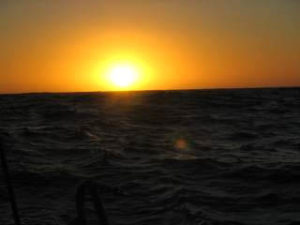 More tomorrow, including the next Ocean Science subject on http://www.oceanplanet.org/!
Bruce Schwab, Skipper
USA 05/Ocean Planet