Home > Journals > 2004 – 2005: Vendée Globe
Ocean Planet Vendée Globe Update:
Friday, December 10, 2004
Position 43 08N, 35 17E, @ 14:53 UT
Back on track?
I hope so. It was a rather slow night and morning as I really kept the sail power low. With my quickie repair on the rudder boot yesterday, I didn't want to stress it while I worked our way north to intercept tomorrow's high pressure zone. The idea was to get light air and hopefully smoother seas to allow me to make repairs on the boot with less water sloshing in.
It is hard to see much in this pic, but this is the look of the repair I did yesterday while water was trying to get in:
So the plan was to baby it and head for smoother water, but sailing both slowly and in the wrong direction didn't sit very well with me. So I was thinking about how else to do it. In the end, I just slowed down as much as possible by sailing almost dead downwind with a second reef in the main, and it seemed to work well.
The boot seems to be getting fatigue tears, possibly from getting sucked too far into the bearing, then alternately ballooning up with water. So in my temporary repair, I pulled up some of the material and taped it to the rudder shaft to stabilize it while the sealant cured on the patch.
In today's redo, I undid the upper clamp and folded over the top of the boot to raise it up and take up the slack and reclamped it. An additional patch had to be made for another small tear, and without the water trying to get in it wasn't too hard to get it to stick. After letting it set up for a bit, I started applying more speed, and she appears to be holding well. The big compromise is that limiting the amount of extra material means that it will have to stretch more when the tiller is hard over, but that rarely happens.
New and improved?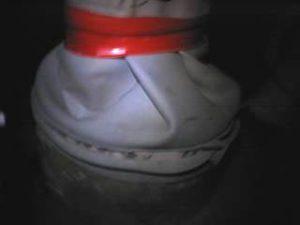 Hopefully Patrice on VM Mat. won't have gotten too far ahead while I've been messing around! But I will still be taking it relatively easy, as there is a long, long way to go.
Bruce Schwab, Skipper
USA 05/Ocean Planet