Home > Journals > 2004 – 2005: Vendée Globe
Ocean Planet/USA 05 Update:
Monday, September 27, 2004
Hard to describe.
After a long winter, spring, and summer in Maine, Ocean Planet departed Portland Yacht Services on the afternoon of Thursday, September 23. It is impossible to describe the feelings of gratitude, apprehension, and anticipation as we head across the Atlantic. We will have roughly one month of final preparation in Les Sables d'Olonne before the start of the Vendee Globe.
Our sendoff from Portland was fantastic, complete with spectator boats and the Portland fire Dept fire boat!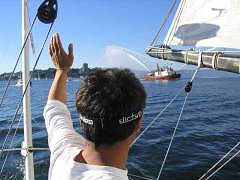 As the coastline faded away behind us, I began to realize that I won't see American shores until next year. I get a lump in my throat when I think of all that we have been through the past four years, and how far I still have to go. Hopefully we will sail back to Portland next spring after circling the globe, but that seems so far away when there is still so much to do, so many miles to sail, and so many bills to pay.
There may be some rough weather to dodge on the way to France, but a weather window appeared to open and there is no time to lose. So far our timing looks good as the sailing has been great. There will be a big low pressure trough forming behind us in a few days, so the rush is on to get well past that zone and be able to avoid getting pummeled. Fingers crossed.
I have a great crew of supporters for this voyage: Mario Espin, John Eide, and Bette & Ernie Reuter:
More from the crew and Ocean Planet as the days go by!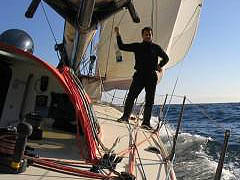 Bruce Schwab, Skipper
USA 05/Ocean Planet