Home > Journals > 2004 – 2005: Vendée Globe
Ocean Planet/USA 05 Update from Bruce Schwab:
Monday, September 20, 2004
We are ready to go: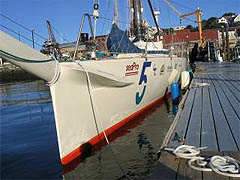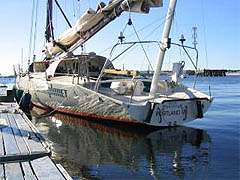 But I have no desire to sail through hurricanes on the way to the Vendée Globe start in Les Sables d'Olonne…
We may leave tomorrow (Tuesday), but the Atlantic is a minefield right now and I will make an assessment each day.
My friend Skip King has been helping me out with press releases, this one went out yesterday:
DATE: 19 September, 2004
VENDÉE GLOBE RACER OCEAN PLANET AND SKIPPER BRUCE SCHWAB DELAY DEPARTURE
Hurricane Karl poses threat.
PORTLAND, Maine (September 19, 2004) – Bruce Schwab, the only American entrant into the upcoming Vendée Globe solo round-the-world race, has delayed his departure to France.
Schwab and a small delivery crew planned to depart for France early Saturday afternoon. But weather forecasts proved unfavorable.
"The remnants of Hurricane Ivan would have provided a fast ride for the first few days," Schwab said, but Ivan wasn't Schwab's concern. Updated forecasts indicated that Schwab's boat, Ocean Planet, was at risk of a close encounter with the rapidly-developing Hurricane Karl.
"It looked like we'd meet it just about mid-Atlantic," said Schwab. "Ocean Planet is built to take some of the world's worst weather. But for us, it's all about the race. We still have plenty of time to get the boat to France."
Schwab said that the team would evaluate updated forecasts daily and are standing by for a safe window.
"As of Saturday afternoon, it appears that we'll delay departure for two or three days," Schwab said. But that could change, as the forecasts do."
The Vendée Globe is the world's most challenging and extreme sailboat race. Competitors must sail around the world, alone, non-stop and without any assistance.
250,000 fans are expected to watch the Vendée start in November. Worldwide TV, sports pages, and Internet sites will provide constant coverage.
For more information, log onto bruceschwab.com, or oceanplanet.org.
Thanks Skip!
Bruce Schwab, Skipper
USA 05/Ocean Planet