Home > Journals > 2004 Relaunch – Les Sables
Ocean Planet/USA 05 Update:
Wednesday, January 07, 2004

Good People
I have been incredibly lucky to have made it around the world once already, in the Around Alone race, without a "big name" sponsor. How on earth did we do it? With enormous donation support (from folks like you!) and also with some great products and help from our Supplier Sponsors.
Many of our Supplier Sponsors from the Around Alone are returning to join us for the Vendee Globe, is that cool or what! Not only that, but there are some great new ones. Although not "big" companies, all of our suppliers are interesting, talented, and just plain good people.
In fact, today I thought I'd introduce one of them: Portland Yacht Service (http://www.portlandyacht.com/). Portland Yacht Service is a rapidly growing full service yard, residing on a location that is rich in history. Owned by longtime Portlander (and circumnavigator) Phineas Sprague, he and the yard have a colorful vision for the future that is great mixture of high tech and tradition.
Portland Yacht Service is hosting our winter refitting and makeover to get us ready for the Vendee, by providing our indoor workspace and heat (a big deal here in Maine!) free of charge. In addition, their talented crew is available to help at a special labor rate when needed. But most of all, their supporting spirit, advice and cheer helps me to keep on working when the battle seems overwhelming. It may be cold here in Maine, but it's worth a visit to see Ocean Planet and the yard if you get the chance!
Back to sanding, phone calls, and sponsor hunting for me, but stay tuned for more updates on my progress towards the Vendee and our helping team.
Btw, ever wonder what holds up our amazing unstayed rig? Here is the maststep and bearing (the bearing that I'm holding has goes on the shaft and is held on by that big nut….no, the nut in the picture, not me!).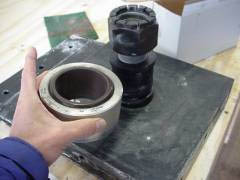 Bruce Schwab, Skipper
USA 05/Ocean Planet