Home > Journals > 2004 Relaunch – Les Sables
Ocean Planet/USA 05 Update from Bruce Schwab:
Wednesday, February 04, 2004

A Mainer?
Have I become a "Mainer?" Probably not, as I think that you need to be born here to officially qualify… but at least I made the local news:
Tonight's 6pm news on the popular Maine station WGME will feature a short spot on an American solo sailor who has made Portland, Maine his home port to prepare for the Vendee Globe. Yes, that would be me! For all of you who are in WGME's range, catch the news tonight. Our spot will run around 6:25 pm, and again on their morning news. If you record it, I'd love a copy…;-)
We may be still looking for the sponsor funding for the more expensive parts of our effort, but are going great guns on the boat work due to several talented volunteers who have been pitching in. I still take care of the most hideous sanding/grinding jobs myself (don't want to scare them away!) but without their help I'd be toast.
Here's Bill Stephens of Bristol, RI cutting out some excess wood blocking where the jib tracks used to be (I'm switching to floating jib leads):
And from Minocqua, Wisconsin, is Matt Magolan, helping to modify and lighten our gear storage area: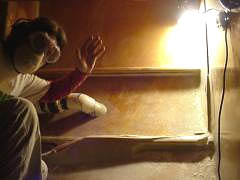 Also a HUGE help has been new supplier sponsors like Coastline Composites (http://www.coast-lineintl.com/) who are supplying much needed carbon fiber and other supplies for our modifications and improvements. Coastline Composites are distributors of just about everything you need to build a boat, from sandpaper to fiberglass to resins (including another supplier of ours, MAS epoxies). More about these great folks in future updates, but please join me in welcoming them aboard!
More news: Promoted by Portland Yacht Services, I will be presenting my slide show on Saturday, February 21st in their brand new seminar room overlooking Casco Bay. I hope to see you there!
Bruce Schwab, Skipper
USA 05/Ocean Planet