Home > Journals > After Around Alone
Ocean Planet/USA 05 update from Bruce Schwab:
Tuesday, October 14 2003

Ten years ago in the fall of 1993, I was hard at work almost every night at Svendsens Boat Works on my 1930 30sq meter "Rumbleseat". I was determined to finish what had seemed a hopeless restoration/modernization project that caused many to shake their heads in wonder at what was the matter with me…and after 13 years (I started the project in 1980), who could blame them?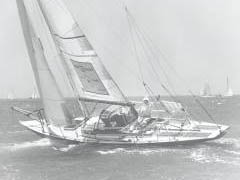 But through immeasurable sweat and toil, the help of many volunteers (most of whom probably just got a laugh out of the whole thing), and my girlfriend Jeanie, the beautiful & elegant wooden missile took a new form and became a one of a kind boat. "Rumbleseat" became a familiar winner in the singlehanded racing circuit in the San Francisco Bay area, and together we went on to win the 1996 singlehanded Transpac race by about a day and a half. I never realized that the adventure was just beginning…..
Racing and winning with Rumbleseat was an incredibly rewarding experience, but was it worth 13 years in the boatyard? After growing up working on my dad's boats, then that crazy project taking more than a decade, and having just completed a tour of the world's boatyards, you would think that I've had my fill of boat yard work.
NOT!
Here I am, writing this long overdue update on my trusty laptop (that has now been around the world), on a desk in a classic 1890 house filled with historic maritime paraphernalia (thanks to host and supporter Bill Shea) . It is such a LONG story how we got here to the improbable location of Portland, Maine, to begin more yard work on our beloved Open 60 at Portland Yacht Service. Fall is fast approaching, and the boat needs to be safely indoors before the cold hand of winter tightens it's grasp. Even getting here this time was a bit of a story. Saturday morning found me in the tiny hillside town of Orbisonia, Pennsylvania, picking up a good winter work car that I found on the internet. Never one to pass up an adventure, I decided the deal on this car was good enough to justify the extra miles. Besides, even after sailing around the world there is something about small towns in the middle of nowhere that I can't resist (and I was ready for a road trip anyway)….;-)
My visit to Americana went well, and then I drove to Bristol, RI, where much of our supplies are stored, packed the car to the roof with boat junk (er, supplies), and today headed up the seaboard to Portland. The beauty of the turning of the season in New England is legendary, and no wonder as the trees are turning innumerable shades of orange, red, and yellow. What was eerie though is that there was almost NO traffic going north with me….but an endless procession of the last of summer's vacationers heading south.
So tomorrow I begin to tackle the task of readying the boat to haul out. By Saturday she will be indoors with the mast, keel, and bulb removed, ready to begin work. What will I be doing on the boat this winter? It depends. Right now I will begin the general maintenence and painting prep that one would expect after a race around the world. But to race the Vendee, a much more serious modification and preparation program must begin soon and will take several team members.
We are ready to go if we raise enough in donations to hire the crew. If not, it will be just me and my sander, grinding away at night, just like so many years ago…..but this is not a little 30sq meter preparing to sail the Bay. I need your help for this one, if I'm going to make it around the world non-stop in waves like this one….
By the way, take a look at our new website: http://www.bruceschwab.com/. I admit that have mixed feelings about putting our Ocean Planet name in the background, but I've been getting some very talented help who have created a complete new look. They do have have a tough act to follow, as I'd gotten really attached to the work of longtime Ocean Planet volunteer Mark Wiltz…..so please let me know what you think.
Bruce Schwab, skipper,
USA 05/Ocean Planet