Home > Journals > 2004 Relaunch – Les Sables
Ocean Planet/USA 05 Update from Bruce Schwab:
Monday, June 7, 2004
Better safe than sorry.
Over the last few days I have been watching the ongoing Transat race with great interest. If you haven't been, I highly recommend following this very exciting and dangerous race on their great website: http://www.thetransat.com/.
Of most interest (and concern) to me is the Open 60 monohull division where most of the entrants of the coming Vendee Globe race are racing. The new boats (and several veterans, like Bernard Stamm, winner of the 02/03 Around Alone), are extremely fast and have made impressive speeds across the Atlantic. However, the attrition rate has been quite frightening with several serious accidents among the leaders.
So far, Virbac (JP Dick) has rolled and dismasted, Cheminees Poujoulat (Bernard Stamm) has lost his keel and rolled, PRB (Vincent Riou) has dismasted, and even current leader Mike Golding has problems with his canting keel. These events in a 3000nm transatlantic race drive home many of the characteristics of Ocean Planet as she is designed primarily for the 25,000nm non-stop Vendee Globe. Our extremely high AVS (Angle of Vanishing Stability) is to resist rolling, the unstayed mast is virtually unbreakable (knock on wood!), and the fixed keel has no hydraulics to fail.
But of course I still want a fast boat! This whole winter of work has been all about addressing the compromises of safety and speed, and I am very happy with our progress and my choices. All of this work has been made possible by our supporters (like you) and our supplier sponsors, like Coast-Line International. Coast-Line (www.coast-lineintl.com/) has been a fantastic supplier of the wide variety of materials that you need for hi-tech boatbuilding. From carbon fiber, e-glass, and vacuum bagging materials, they have been a HUGE help for Ocean Planet's Vendee Globe preparation.
A perfect example of a modification made possible by their supplies is our new carbon fiber headstay/bowsprit receptacle/front bulkhead assembly. This new unified structure will save a valuable 80lbs or so where it really counts, in the bow!
Here is a shot of the chainplate/bowsprit box after vacuum bagging overnight cooking: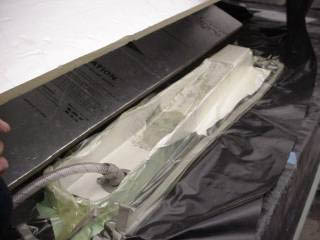 Here is the top of the carbon chainplate:

And here it is after being installed in the boat:
Lots of other work is wrapping up, we'll be painting soon!
Bruce Schwab, Skipper
USA 05/Ocean Planet