Home > Journals > 2004 – 2005: Vendée Globe
Ocean Planet Vendée Globe Update:
Monday November 8, 2004
Position 44 38N, 07 06W, at 13:17 UT
Off we go! I can hardly believe it myself, but yesterday I started the 2004/2005 Vendee Globe. The scene in Les Sables d'Olonne and out on the water at the start was indescribable. These pics can't convey the enormous crowds and the energy of all the people, but hopefully they'll give you an idea. The second pic shows a big banner hung by Charles Monnet school (the school I visited in Les Sables in October) that says "In Bruce we Trust." Now there's some brave folks!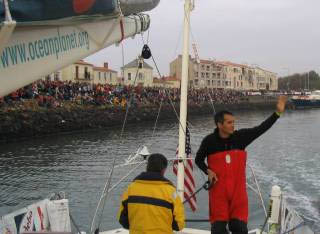 We had several hours to mill around after getting towed from the dock, so our friend and local musician Stephan Kolodiez hopped aboard from our viewing boat to play a tune with me:
A huge THANK YOU to my shore team, my supplier sponsors, and supporter who helped me get here. The challenge I face now must be done alone, but it is on your behalf.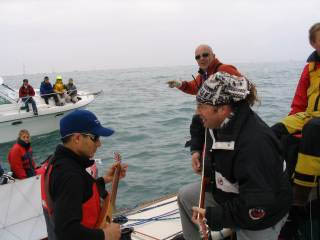 A special thanks to our shipping sponsors MOT Intermodal and Shipco! They had to just through some hurdles to get our new sails here in time, but they know what they are doing and pulled it off. This is on top of supplying our 40 foot support container and shipping it to France for us.
Also, thanks again to Iridium, otherwise I wouldn't be able to send these updates to you!
There are about a hundred other special thank-you's I need to do, but this will be a long race and I have a little time…..;-)
Meanwhile, back to racing. Here's a shot of Herve Laurent's boat UUDS a couple hours after the start. This is his THIRD Vendee Globe….yow.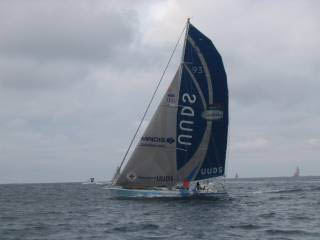 Bruce Schwab, Skipper
USA 05/Ocean Planet